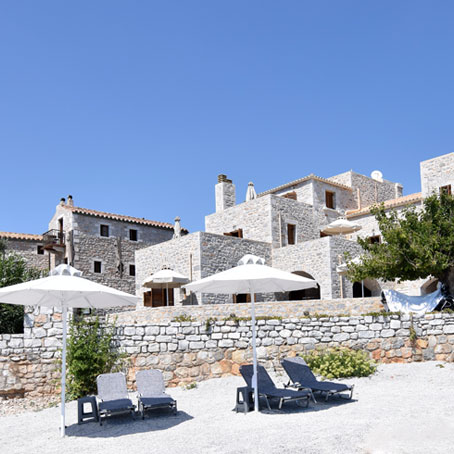 KYRIMI Inn Bed & Breakfast Suites
In the village of Gerolimenas, located on the seashore with panoramic views of the Messinian Gulf is the Kyrimi Inn Bed & Breakfast Suites. Housed in a stone-built tower, it features five beautifully decorated, fully furnished and equipped Suites that can accommodate two to four people.
Gerolimenas
Mani, Lakonia.
Kyrimi Inn Bed & Breakfast Suites, located in Gerolimenas, just 150 m from the pebbled beach of Chalikia and 4 km from the sandy Marmari Beach. The town of Areopolis is 24 km away.
Kalamata Airport to Gerolimenas (73.5 km)
We loved everything about this property. The rooms are super comfy and great quality. The B&B is right on the waterfront with immediate access to the sea, there is a beautiful full Greek breakfast including delicious fresh orange juice, eggs, Greek sausage and whatever type of coffee you like made by Poppy and Niki, and Linda (the owner) was a delight and very keen to make sure that everything was perfect for you. They recommended great restaurants and spots. Perfect as a base to explore the Mani or to just relax in this small fishing town.
We loved our stay at Kyrimi. The apartment was well-stocked and very comfortable with a beautiful terrace overlooking the sea. We appreciated that there was a number of good restaurants within walking distance.
Excellent hosts. Spotlessly clean. Lovely studio apartment. Wonderful breakfast. Quiet location with great views of the sea from the balcony/patio area.